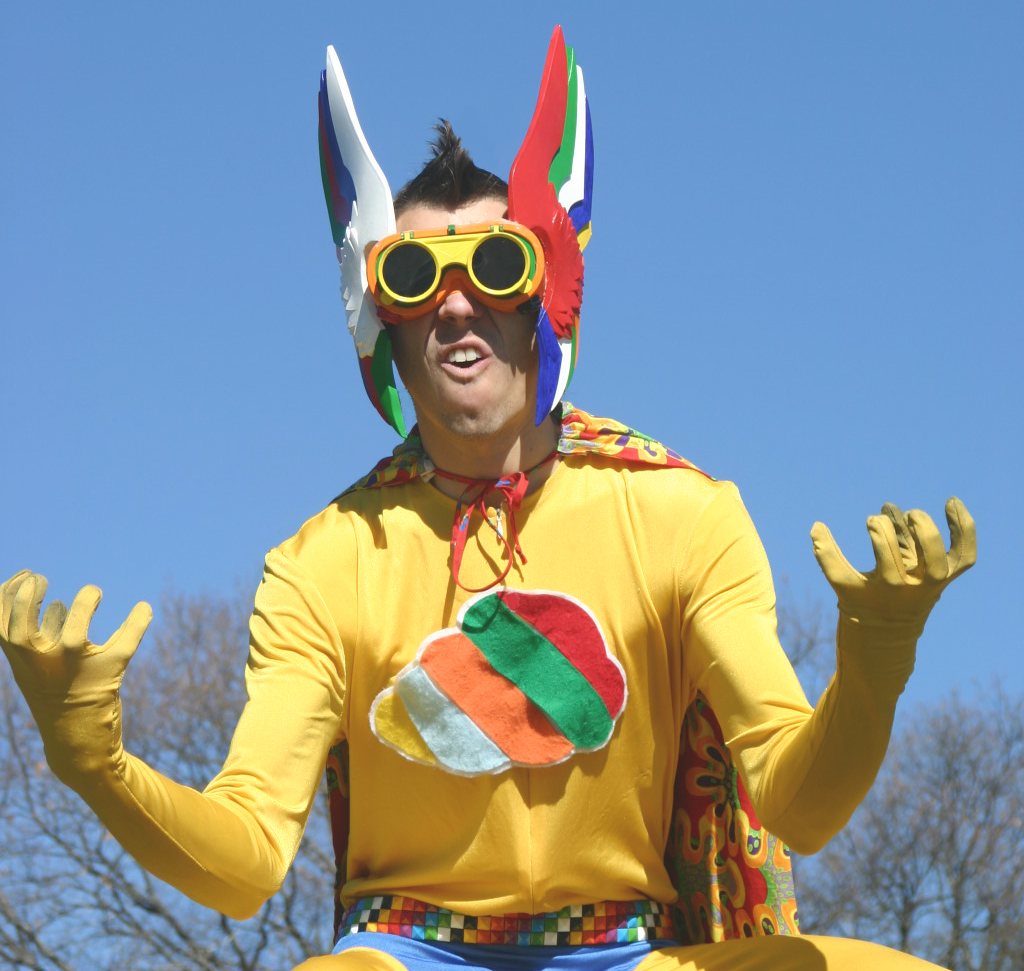 Check out the spicy new promo shots. They're just in time for the upcoming single featuring
Mochipet
,
Warrior Queen
,
DJ Amazing Clay
, and more, available February 10 right here on this blog!
Following that, on March 10,
Daly City Records
will debut the
Greatest Hits (Ha Ha Ha) Vol. 1
album. Check out what people are saying about it:
This time when Th' Mole pops out of the hole, his trademark goofy hip hop grin bares some teeth, even as his heart remains firmly on his sleeve. Greatest Hits (Ha Ha Ha) Vol. 1 is Th' Mole's Daly City Records label debut. A combination of classic tracks, re-recordings, and new material, the elements converge to make his strongest and most personal collection thus far.

As a producer, The Mole manages to create a sound that is aggressive and fluid all at once; it's the bombastic sound of the apocalypse, but with an over-riding feel of hopeful carelessness rather than one of desolation. In "Don't Be Sad, Nothing Matters," a warm classical flamenco guitar is stunningly contrasted with electrified beats, while a voiceover reassures us that we have nothing to fear "as the world plummets". "Jump Jack" – an irresistibly-catchy dance jam that also features ragga vocalist Warrior Queen – continues the theme as he commands us: "Fuck the world! Just jump up off it… and do your dance." Faced with the onslaught of depressing current events and trends, Th' Mole has taken on the role of comforting father on a sinking ship.

His skills as an emcee have grown stronger than ever, as evidenced by the new remake of "Caitlin," a signature song of his that tells a touching, apologetic tale of childhood playground betrayals. On the other end of both the lyrical and vocal spectrum is "I Hate You," a reflection on love-gone sour, sung over a piano-plunk loop that could have been taken right out of Peanuts. "I baked you a cake and I don't even cook. I'll never bake another fucking cake ever again. And by the way, sometimes your breath stinks. And you're fucking insensitive. Bitch." It's hilarious, and if you've followed Th' Mole's career, it's also a jolt; the remorseful Mole of "Caitlin" is now calling a girl a bitch? In a lot of ways that sums up the Mole of 2009: ideals of love or society have been destroyed, and he's mildly pissed about that. Charming humility is replaced with an inspiring sense of entitlement: he's done asking us to see a better world; now he's gonna build one whether we like it or not.

Overwhelmingly, however challenging the message, sheer fun still rules Th' Mole's self-made universe. The production is impeccable, the vocals and lyrics are dizzyingly creative, and as he manages to stamp a smiley face on everything, he creates an improbably refreshing sort of emo-comedy. Greatest Hits (Ha Ha Ha) Vol. 1 succeeds in being Th' Mole's most cohesive and satisfying album yet. To ice the cake, the Tick Tick Blam EP (included as an MP3 CD-extra, along with an exclusive music video) features remixes from the likes of Mochipet (Daly City/Bpitch Control), Robot Koch (of Jahcoozi, Kitty-Yo/Rough Trade), acclaimed Brazilian baile funk producer DJ Amazing Clay (Man Recordings), Bloody Snowman (Daly City), and Preshish Moments (Daly City).- Collin Clay (Juha)...its probably going to be the DOPEST release of 2009. I friggin love it.
- Nomar Slevik (SIQ/Dis.eased)

Th' Mole "Jump Jack (ft. Warrior Queen) makes Chrome Kids "Top 20 Chart"


BTW, did you miss Th' Mole's free
Whirled Fusion
mixtape?
LegendaryHipHop.com
says
"This is a wicked album, an eclectic deejay mixup of varying types of music put together delicately into entirely new compositions by DJ 0.000001. It's really cool, 'cause it all runs together and sounds great. It doesn't sound like your typical artist mashups and more like original songs based on other songs... I don't know how to describe it, really."
Get it
HERE!