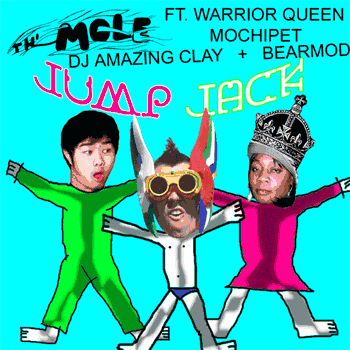 What the heck is this
"multimedia maxi-single,"
you ask? It's awesome!!
Th' Mole's JUMP JACK single features Mochipet, Warrior Queen, DJ Amazing Clay and Bearmod, and includes three MP3's, a music video, and animated GIF cover art.
CLICK HERE TO DOWNLOAD
Turbo-powered "future rapper" Th' Mole refers to Jump Jack as
"exercise music.
"
"It's something to work out to,"
he says.
"Something to get your blood pumping, to make your muscles big and get you in shape."
Preview the ridiculous "Go Horsie" music video and subscribe to the new
ThMoleTV
channel at
youtube.com/ThMoleTV
Originally hailing from Jamaica,

Warrior Queen

is known primarily for her work with the widely acclaimed The Bug (Ninja Tune). She has an extensive body of work in dancehall, garage, dubstep and beyond, including collaborations with Skream and DJ Zinc. She has voiced the iconic Bug single "Poison Dart" as well as the stunning album track "Insane". The Bug and Warrior Queen are currently completing a series of US dates with Nine Inch Nails.
myspace.com/thewarriorqueens




Mochipet

, AKA David Wang, runs Daly City Records and endorses products such as M-Audio and Puma. He is currently working on several new projects including ones with Joyo Velarde, Lyrics Born, Antipop Consortium's M. Sayyid, and Chicago's MC Zulu. Listen to Mochipet's remix of Th' Mole, featuring Warrior Queen, on the Jump Jack maxi-single.
myspace.com/mochipet




DJ Amazing Clay

, whose DJ career stretches back some 27 years (circa 'Planet Rock', an early staple of Clay's sets), founded 'Equipe Curtisom Rio' ' one of Rio's earliest funk sound systems. Until his recent collaboration with Th' Mole (remixing "Go Horsie"), Clay's definitive production work has remained almost completely within the Brazilian baile funk scene, gracing recordings by Mr. Catra, Deize Tigrona and MC Dido, flanked by the unparalleled baile funk label, Man Recordings.
myspace.com/djamazingclay




Bearmod

(AKA Blingmod, Briefcase Rockers) hails from Hawaii but resides in Montreal, hanging tough with the Turbo Crunk crew, making people dance to the rocket-powered bleep hop, all in the name of love. He and Th' Mole met long ago when they were aimless young punks in Hawaii; now Bearmod regularly rocks crowds alongside such acts as Megasoid, Lazer Sword, Hovatron, Lunice, and more. For Jump Jack, Bearmod remixes the track "Heart Phire" (from the forthcoming album), transforming it from a hillbilly stomper to a city-slick stepper.
myspace.com/bearmod




Th' Mole

has been spinning his weird web since the 90's, jumping from the Bay Area to Hawaii to New Orleans and beyond, meanwhile running his own record label, Motion Recordings, and releasing music under a number of aliases. Th' Mole's music has been released by numerous indie labels (Hectic, Zhark, Anti-Party, Vaatican, etc.), and he has performed all over the world, sharing stages with such notables as DJ Krush, Venetian Snares, Living Legends, Meat Beat Manifesto, and more. Whoop-tee-doo!! On March 10, 2009, Daly City Records releases Th' Mole's

Greatest Hits (Ha Ha Ha) Vol. 1

album.
myspace.com/themole
Th' Mole is currently booking Europe, Canada and the US for Spring.
Contact
jonah.themole@gmail.com
for inquiries. Press kit at
dalycityrecords.com/the_mole